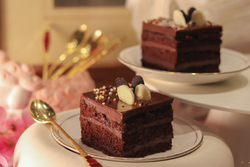 Sugar & Spice
Moist Chocolate Truffle Pastry 🟢
🟢 Classic Chocolate Pastry made with alternate layers of Chocolate Sponge and  Chocolate Ganache.
Indulge your senses in the world of pure decadence with our Moist Chocolate Truffle Pastry. This exquisite dessert is the epitome of chocolatey perfection, designed to satisfy even the most discerning sweet tooth.
Consumption & Storage Guidelines - 

Tastes best on the day of purchase.

Keep refrigerated, serve cold.