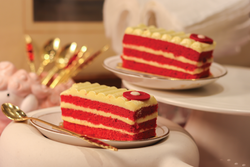 Sugar & Spice
Red Velvet Pastry 🟢
🟢  Red velvet cake made with Red velvet sponge and cream cheese frosting.
Elevate your dessert experience with our exquisite Red Velvet Pastry. A harmonious blend of timeless elegance and sumptuous flavor, this indulgent treat is perfect for those seeking a touch of sophistication and a burst of velvety sweetness.
Consumption & storage guidelines -
Tastes best on the day of purchase.

Keep refrigerated, serve cold.