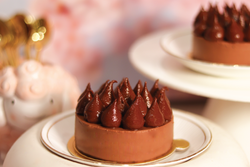 Sugar & Spice
Chocolate Truffle Cheese Cake 🟡
🟡 Cold cheesecake made with cream cheese, sugar, and sour cream, topped with chocolate hazelnut frosting.
** Customization Available **
Indulge in pure decadence with our Chocolate Truffle Cheesecake, a culinary masterpiece that's sure to satisfy your sweetest cravings. This heavenly dessert combines the velvety richness of chocolate truffle with the creamy perfection of cheesecake, creating a symphony of flavors that will leave you craving for more.
Consumption & storage guidelines -
Tastes best on the day of purchase.

Keep refrigerated, serve cold.