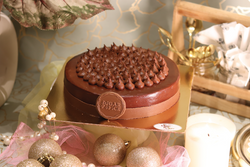 thesugarandspice
Soft Chocolate Cake 🟢
🟢 Chocolate Mousse layered between chocolate sponge and coated with Nutella, chocolate, and cheese frosting.
** Customization Available **
The epitome of chocolatey indulgence. If you're a certified chocoholic, this cake is a must-try for your taste buds. Crafted with the finest ingredients and a touch of culinary magic, our Soft Chocolate Cake promises a slice of heaven in every bite.
Consumption & storage guidelines -
Tastes best on the day of purchase.

Keep refrigerated, serve cold.