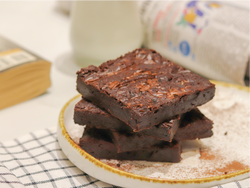 Sugar & Spice
Chocolate Fudge Brownie 🟡
🟡 Fudge Brownie made with Dark Chocolate, Eggs, Sugar, and Refined Flour.
A chocolate lover's dream comes true. These brownies are the epitome of indulgence, combining the richness of dark chocolate with the irresistible fudgy texture that makes them an absolute delight.
Consumption & Storage guidelines -
Consume within 4 days of purchase.

Store at room temperature if cool, refrigerate in summer.
Can be enjoyed cold, warm at room temp.