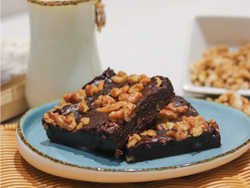 Sugar & Spice
Walnut Brownie 🟡
🟡 Gooey brownie made with loads of Dark chocolate, Sugar, Eggs, Refined Flour, and Roasted Walnuts.
Satisfy your sweet cravings with our delectable Walnut Brownie - a rich, chocolatey delight that's the perfect blend of gooey and nutty goodness. If you're on the hunt for a dessert that's a true indulgence, look no further.
Consumption & Storage guidelines -
Consume within 4 days of purchase.

Store at room temperature if cool, refrigerate in summer.
Can be enjoyed cold, warm or at room temperature.