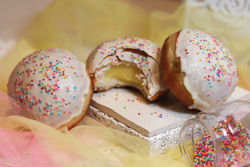 Sugar & Spice
White Chocolate Doughnut 🟡
🟡 Filled with lemon curd and dipped in white chocolate.
INGREDIENTS:- Butter, Refined flour ,White Chocolate, Sugar, Egg, Lemon Curd, Yeast, Water etc.
Weight:- 75 grams
Shelf Life:- 3 days
Introducing our White Chocolate Doughnut - a heavenly creation that combines the fluffy delight of a doughnut with the sweet decadence of white chocolate. If you're craving a treat that's both indulgent and irresistibly delicious, this doughnut is the answer.