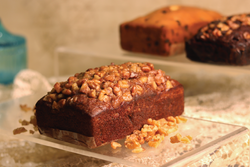 Sugar & Spice
Banana & Walnut Cake 🟡
S&S special Dense and Moist cake made with bananas, walnuts, and jaggery.
** Customization Available **
Introducing our scrumptious Banana Walnut Cake, a slice of homemade heaven that will tantalize your taste buds and warm your heart. Bursting with the natural sweetness of ripe bananas and the delightful crunch of fresh walnuts, this cake is a comforting classic that's perfect for any occasion.
Consumption & Storage guidelines -
Consume within 3-4 days of manufacturing.

Store at room temperature, cool refrigerate in summer.