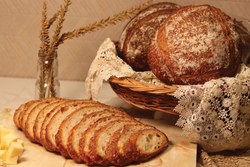 Sugar & Spice
Sourdough Bread Sliced 🟢
🟢 Crusty sourdough bread made with high hydration and slow fermentation.
Our sourdough bread is naturally leavened and features a delightful combination of a tangy flavor profile and a crisp, golden crust.
Our sourdough bread is a testament to artisanal craftsmanship. Made in small batches, it undergoes a slow fermentation process.
Consumption & storage guidelines -
Consume within 3 days of date of manufacturing.

Keep refrigerated after packaging is opened.
Please do not microwave.